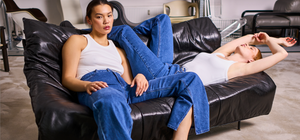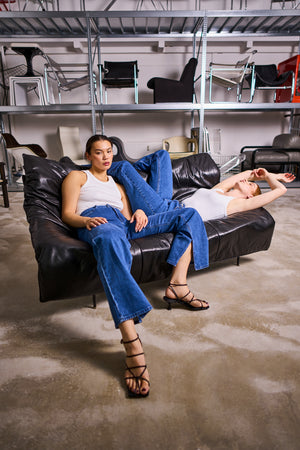 when mutual values merge,
good things happen.
rigid look and comfy feel
Low stretch organic cotton
We are tired of all those super stiff 100% (organic) cotton denims since they're not very comfy, loose form very easily and usually don't fit a lot of body shapes. 

Therefore we have developed jeans which fit perfectly and have a high wearing comfort. Try for yourself.
OUR FITS
SELENE
HIGH WAIST
WIDE LEG
SLITTED INSEAM
ALBA
that's a first.
Not made in Europe
Our jeans are produced in a factory in Vietnam which is owned by Dawn Denim itself.
They provide a fair salary for the workers, means it is high above minimum wage (oriented to the Anker living wage methodology). 

Dawn Denim is constantly working on the reduction of chemicals used in the upgrading process. For example, they use leaser technology for bleaching instead of wasting water and using toxins. Our jeans consist of 99% organic cotton and 1% elastane, because - as we said - we want to provide our customers longevity and comfort.