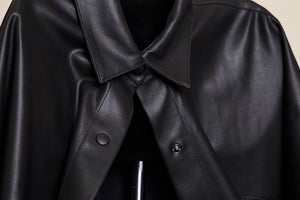 THE VEGAN COATED COLLECTION
The "Coated Jersey", to call it by its technical name, consists of a base of 100% organic cotton and is finished with a coating. This gives the material a cool, edgy look and feel while being 100% vegan.

PETA-Approved Vegan, btw!
The coating consists of water-based polyurethane, which can be produced without solvents and harmful formaldehyde.

The process has been optimized by our Portuguese manufacturer over several years and is now one of the only and most sustainable vegan coated options on the market.